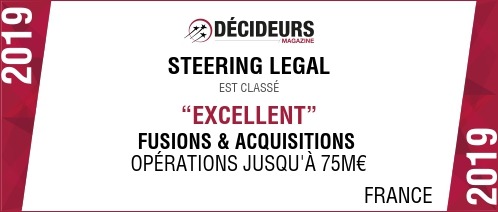 The firm is ranked  Excellent  for its expertise in Mergers and Acquisitions, in the category of transactions up to €75 million, by the 2019 ranking of Décideurs magazine.
Excerpt from the editorial:
Track record: advising both large listed groups – notably some major players in the automotive and construction sectors – and SMEs, the team worked with Agiliteam, a specialist in precision machining, during the acquisition of MPC's stake in its capital, as well as during the LBO carried out by MBO Partenaires on Sequoiasoft.

Differentiation: the firm completes its skills with the arrival of Jean-François Bette in corporate taxation. With a very international positioning, particularly in sub-Saharan Africa and South America, the firm is nevertheless very present in often complex French operations, where the experience of the partners is a major asset.
Our Mergers and Acquisitions division, headed by Nuno de Ayala Boaventura and Olivier Guinard, comprises a team of 5 partners (Nuno de Ayala Boaventura, Olivier Guinard, Florian Guais, Alice Billilchi, Jean-François Bette) and 11 associates.
Read the excerpt from the Mergers & Acquisitions Guide 2019, including the global ranking, our editorial and our directory: Steering Legal_Fusions-Acquisitions_2019.